Statue Unveiling
The parade of more than 100 Golden owners and their Goldens was led by a piper followed by (left to right) Stuart Baillie Strong, Patricia Baillie Strong of the Clan Marjoribanks Society and Andrew Marjoribanks, Chief of the Clan Marjoribanks ; Doreen McGugan, Chair of the Golden Retriever Club of Scotland, and Donald Fraser of the Fraser Clan, owners of much of the Guisachan lands.:
 The piper and the parade stopped at the memorial to Lord and Lady Tweedmouth to pay tribute to the founder of the Golden Retriever.
 Joy Cox, wife of the sculptor, John Cox of Escar UK Bronze, and her daughter, Jane came from England for the unveiling.
 More than 100 Golden Retriever owners and their dogs marched back to the village following the ceremonies. Many residents of the village also turned out to see the work of art that now stands along the one-track road in Tomich.
 Tartans ruled the day – even for these two Goldens dressed in kilts!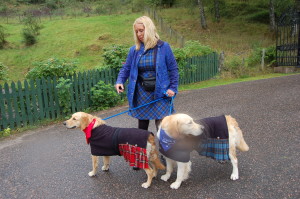 UK Ch. Michael of Moreton (1925-1934) provided the framework for the statue, representing the mid-point of the breed's development.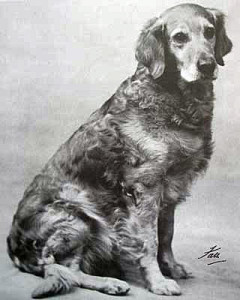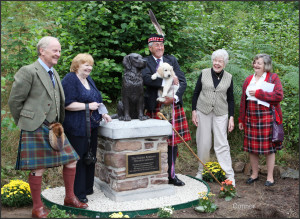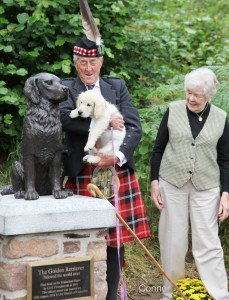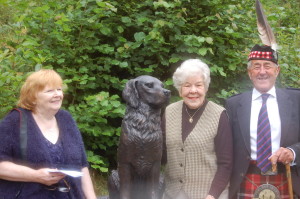 Donald Fraser, Andrew Marjoribanks, Joy Viola, Doreen McGugan, Patricia Baillie Strong
Andrew Marjoribanks, Joy Viola
Andrew Marjoribanks, Joy Viola
Donald Fraser, Andrew Marjoribanks, Joy Viola, Doreen McGugan, Patricia Baillie Strong
  The plaque pays tribute to both the founder and the breed