A Guisachan Adventure
The following is an excerpt from the diary of Friends of Guisachan president, Joy Viola, detailing her trip to Scotland for the Guisachan Gathering of 2013.
The hope of the author is that information herein regarding travel logistics and things to do when you get there, may help others plan their own trips to Guisachan.
Monday, July 15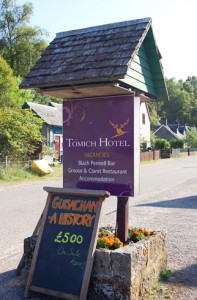 Two years of planning and dreaming, and the day had finally come. My colleague Sue and I boarded our Aer Lingus flight from Boston to Dublin and then flew on to Glasgow where we picked up a rental car and drove five hours north to Cannich, and beyond to the fairy tale village of Tomich and the Tomich Hotel. We were headed to the long-awaited 2013 Guisachan Gathering.
Two years ago I made inquiry about a room at the Tomich, knowing it had only eight rooms, a dining room and pub. I'd already been advised by another person that the hotel was fully booked for the Gathering, but I asked if they might have a "wait list." Jackie Gill, the proprietress, said no, they didn't have one yet, but they'd start one and I'd be the first on the list. A year later, just in time for my birthday, I got word that an Australian couple had cancelled and she did indeed have a room available. Then the long wait began.
The flight to Dublin was uneventful, but it seemed much more than 6 hours long. The food was "uneventful" also, but that's airline food today. The Dublin-Glasgow flight was only an hour, but it was on a small prop plane which was exceedingly noisy. At 8 a.m. we arrived in Glasgow and the real adventure began.
Tuesday, July 16
I had said I won't believe I'm really in Scotland until we pick up the rental car and everyone is driving on the "wrong" side of the road! Even the steering wheel was on the "wrong" side, by American traditions. Our rental car turned out to be a Mercedes which was totally unexpected, but very nice. But the road was something else. Sue drove and I navigated, directing her to which side of the road to be on when we faced roundabouts – of which there were many. Out we rolled onto the M8 with lots of traffic, but we managed to stay in the left lane and finally reached the A82. We had elected this route as we were told it was just a two lane road and we figured we could figure out which lane we belonged in more easily. But the A82 was a never-ending series of S-curves with signs that read "Slow Down Now." I think we saw one straightaway all the way to the Highlands!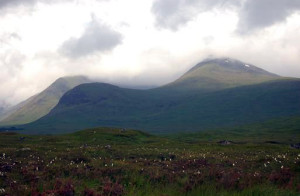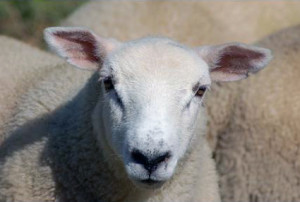 I was amazed that we were in the mountains almost as soon as we left Glasgow and the density of the evergreen forests also surprised me. Some areas had been clear-cut by logging firms leaving unsightly gashes on the hillsides, but one could "feel" the aura of Scotland almost immediately. We passed through towns with, to us, exotic names while other street signs directed one to towns such as Ballachulish and Kinlochleven – giggling about what the correct pronunciation might be. As we climbed ever higher into the Highlands, the land was covered with lush grasses that looked like green velvet. For miles we drove in silence, marveling at the beauty of the countryside. But the "S' curves kept us both on our toes.
We stopped only once – at a train station in Crianlarich to get a cup of tea and something to eat as we were both feeling queasy from all the curves in the road. I had a Scottish pie which was a cupcake-sided minced lamb in a pastry and Sue had a cookie. Being an ardent birder, I was please do see my first identifiable Scottish bird, a Barn Swallow. Nothing exciting, but it was the beginning of my birding list.
We drove along Loch Lomond and Loch Ness but there were few places to pull over on our side of the road so we couldn't take pictures. And when we did find a pull-out, it was full of cars. The road was narrow with no shoulders and often with a curb alongside.
Sue did an incredible job of driving five hours on the wrong side of the road after two overnight flights from Boston! We also had all manner of trucks, or lorries as they are called in the UK, as well as campers coming towards us. That was unnerving when the road sign read "Oncoming traffic in the middle of the road." I also neglected to mention it was raining and the clouds were hanging low on the mountainsides.. Are you beginning to get the picture?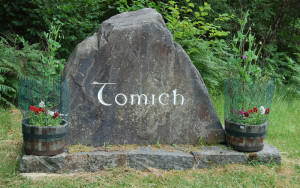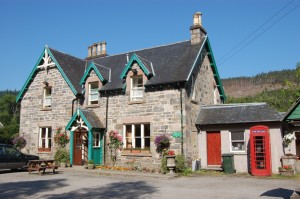 At long last, about 2:00 p.m. we reached Cannich, Inverness-shire and after a few more miles we entered the village of Tomich – the little hotel and a post office. That's it! But it looked like heaven to us after our long journey. Sue's cell phone couldn't pick up a signal (a problem we would face daily) so the young man at the desk kindly let me put through a call to my husband to say we had arrived safely! We quickly unloaded the car and fell into bed! It had been 24 hours since we left Boston.
About 6:30 we got up, went to dinner and had a superb meal of steak and ale pie – tender chunks of beef in a rich gravy with a flaky crust. Sue also enjoyed one of their many desserts – a raspberry and white chocolate cheesecake. I had elected to try their minestrone soup which was substantial so I went without dessert.
Several members of the Golden Retriever Club of America were in the same small dining room with us while the small pub seemed full of Belgians, Australians and three Goldens lying under the tables!
Wednesday, July 17, 12:01 A.M.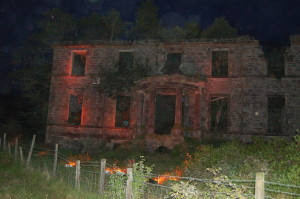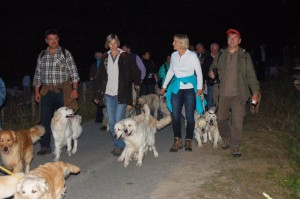 12 midnight. I did it! I walked the road to Guisachan House with scores of people and even more Goldens – Germans, Aussies, Scots, English, Americans, Swiss. This was a real challenge for my soon-to-be-operated-on knee, but I had a cane and I was determined to make the pilgrimage to Guisachan House via the torch-light parade that was scheduled to begin at 10:30 p.m. (It stays light until 11 that far north.) About 10 p.m. cars began pulling into the "Kennel Field" adjacent to the former Guisachan kennel, now a private residence.) There were Goldens of every shape and hue everywhere and people greeting total strangers like long-lost cousins. At 10:30 the march got underway with four flaming torches at the head of the line. It gave me goose bumps to be walking in the dark by flashlight with all these other people and Goldens and then to arrive and see the Guisachan House ruins lit by red, green, blue and yellow flood lights. There were even people in periodic dress standing in front of the ruins with dogs. Talk about a magical moment! It took your breath away. For those who needed a bit of local flavor, there was a nip of whisky and a bite of shortbread – if you could make your way over to the table.
Maybe I should stop here and explain just what this trip and Guisachan House means to so many people. First of all, it was the last item on my "bucket list" meaning something I had to do before I kicked the bucket! Secondly, I'm President of the Friends of Guisachan and my colleague Sue is the Secretary-Treasurer.
For those who may not know it, Guisachan is the ancestral home of the Golden Retriever, the first litter having been born here in 1868. Nous and Belle were the sire and dam of three puppies named Cowslip, Primrose, and Crocus. From this breeding, the Golden Retriever began and in five years – 2018 – the worldwide Golden Retriever community will celebrate the 150th anniversary of our beloved breed. There's going to be a great deal more about those early days on our website, which also brings me to another subject, i.e. the Friends of Guisachan. And this takes some explaining.
In October, 2012, a Golden fancier Suzanne Miller of Washington DC visited Guisachan and while there got to chatting with the proprietors of the Tomich Hotel. They commented that if every Golden owner contributed a small amount, the Guisachan House ruins could be restored. Suzanne brought the idea home, spoke to several people including the President of the Golden Retriever Club of America, who in turn suggested she contact me as I have raised a considerable amount of money for Golden causes over the years.
Suzanne's dream was to stabilize the walls of the ruins in exchange for a long-term lease. Unfortunately, after about a month of searching for the owner, he emailed a short response to our proposal. He had no interest in either renting or selling the property.
Needing a Plan B, Sue and I and our full advisory board, have carried on wishing to educate all Golden owners and the public at large about the history of the Golden and its ancestral home. Thus today, the Friends of Guisachan are gearing up to obtain permits and raise funds to have a custom-designed, life-size Golden statue erected adjacent to the memorial to Lord Tweedmouth in the village of Tomich.
We also plan to promote the celebration of the breed's 150th anniversary through our website. Sue and I got back to our car in the kennel field as the hour approached midnight and I quickly flopped down on the bed and began writing in my journal. What a beginning we have had to this adventure and it's only just begun!
Later that morning, I had kippers for breakfast! How Scottish can you get? A bit on the salty side, in fact, very salty, but I can now say "been there, done that!" After breakfast, we drove to Kerrow House, a local B & B which was formerly Guisachan's housing for the ghuillies and keepers (fishing guides and deer stalkers) for the Guisachan Estate.
There we picked up Marcia Schlehr, a Friends' Advisory Board member, and drove to the home of Donald Fraser. Donald and his wife, Sue, greeted us warmly and introduced us to their son, Nigel, who now runs Tomich Holidays, a self-catering establishment created from the old farm steading (translation: the steading originally housed the cattle farm supplies and grains,) but it has been beautifully remodeled.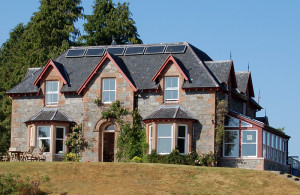 Donald and Sue live in the former farm house built by Lord Tweedmouth to house the farm manager. It's a beautiful building sitting on a hill overlooking the steading with it's magnificent clock tower and the former little dairy, now a rental cottage. It was in that diary that my dear friend Rachel Page Elliott saw a print by Edwin Landseer hanging high on the wall portraying Lady, her horse, a Golden-look-alike and a falconer. Pagey tells how it came about that the print was taken down and mailed to her and I'm proud to say a copy of that print was given to me by Pagey and it hangs over our fireplace mantle. I gave Donald a copy of Pagey's autobiography in which she told of her Guisachan visit and the finding of the Landseer print.
We had a very cordial two-hour visit seated around the dining room table with the Frasers. We drank Scottish tea, ate delicious cookies and talked at length about the Friends of Guisachan and its objectives. During our conversation, Donald suggested we consider placing the Golden statue next to the memorial to Lord and Lady Tweedmouth.
The Gills had offered their garden at the hotel, but it seemed the perfect setting where the statue to be alongside the Tweedmouth tribute.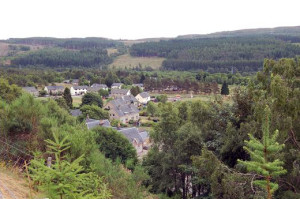 We then drove to Cannich and on to Drumnadrochit (it took me days to learn how to pronounce that word), a more touristy village due to the presence of Urhardt Castle on Loch Ness. We dined at Fiddler's Cafe then strolled around taking photos of the many beautiful flower baskets hanging from the village lamp posts and the young piper playing the pipes on the village green.
Next it was back to the Guisachan ruins for some daylight photographs but by now, the "long days journey into night" was catching up with us so we returned to our hotel to get some rest…
Stay tuned for day two of the Guisachan Gathering!