Guisachan House Furnishings
Guisachan House Furnishings
As one would expect in a mansion such as Guisachan House, the furnishings were exquisite and in excellent taste. Lord Tweedmouth was a collector of fine English furniture and in 1883, he hired the internationally-renown firm Wright and Mansfield to undertake the complete interior decorating of Guisachan House.
Interestingly, some of Lord Tweedmouth's furniture has appeared at public auction in recent times. Among the magnificent pieces which Lord Tweedmouth commissioned Wright and Mansfield to create was a polychrome and pared gilt decorated oblique strung upright Exhibition pianoforte which sold at auction in 2007 for 24,000 pounds (US$38,231.)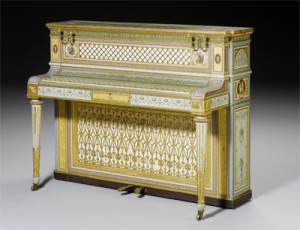 A Wright and Mansfield 1860 Victorian ormolu-mounted walnut, burr walnut and tulipwood inlaid writing-table from Lord Tweedmouth's Guisachan furniture collection sold at Christie's auction house in 2008 for 7,500 pounds (US$11,108.)
In addition to fine furniture, Lord and Lady Tweedmouth collected Wedgwood which was purchased in its entirety from the 2nd Lord Tweedmouth by William Hesketh Lever, first Lord Leverhulme,  in 1905. It constitutes the core of the Wedgwood collection at the Lady Lever Art Gallery in the National Museums Liverpool. Some major pieces within the collection Lord Tweedmouth acquired from the naturalist Charles Darwin who was a grandson of Josiah Wedgwood himself.
In the Art Journal published in London in 1864, there is an interesting account of Lord Tweedmouth's Wedgwood fancy. It is written "At his seat at Guisachan, Inverness-shire, that gentleman has devoted two rooms to the works of the great potter, in which the walls, bookcases and other pieces of furniture are decorated with plaques, medallions, etc. inlaid with great taste."
A number of Lord Tweedmouth's furniture and other artifacts may now be found in the Metropolitan Museum of Art in New York, having been bequeathed to the Museum by the heirs of those who purchased them from Lord Tweedmouth.
Seeking these magnificent artifacts leads one to believe, the dogs were not permitted in the house all that often!