Tales of a Guisachan Adventure – Part II
July 16-23, 2013
By Joy Viola
President, Friends of Guisachan
    July 17, 2013
12 midnight again: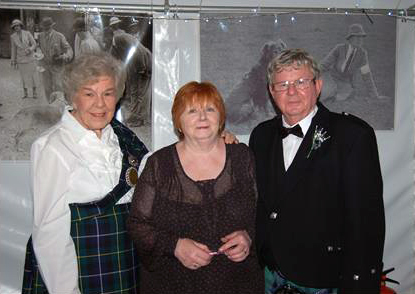 We just returned from the Guisachan Gathering banquet with some 350 people in attendance from countries as scattered as Zimbabwe, South Africa, Australia, New Zealand, Spain, Austria, Germany, Belgium, Italy, Switzerland, United States including Hawaii, Canada, England, Wales and, of course, Scotland.. The Aussies had the largest (and the loudest) group of overseas participants rivaling the Scots in attendance. There were only about 15 Americans, which surprised me. Obviously, our Friends group needs to educate more Americans about this magnificent event.   The meal was excellent with a myriad of choices:
Appetizers
Traditional Scotch Broth with lamb and parsley
Summer vegetable soup topped with spring onions.
Hot Entrees
Casserole of Speyside venison shoulder flavored with red current, rosemary and Chianti
Breast of Chicken filled with world famous cockburns
Haggis wrapped in streaky bacon & whisky sauce
Cold Entrees
Poached salmon served with fresh asparagus, cucumber & basil
Honey glazed gammon with pineapple & raisin chutney
Coronation chicken breast topped with toasted coconut
Marinated rainbow trout & sherry cured herring
Selection of salads
Desserts
Traditional Raspberry & Glayva Cranachan flavored with heather honey
Hardmuir strawberry pavlova with Grand Marnier truffle gateaux
Tropical fruit salad flavored with ginger and lime
Caffitiere coffee or tea with Scottish tablet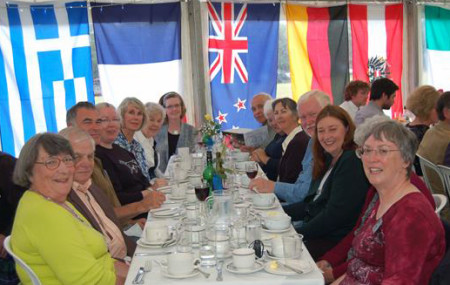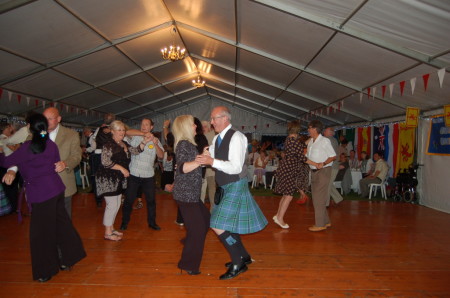 Entertainment was provided by a piper and two sisters performing the Highland Fling and other Scottish Highland dances. This was followed by many of the attendees taking to the dance floor to do the Gay Gordon and other Scottish folk dances.
  Thursday, July 18  
After breakfast, I went to the post office to meet the post mistress, a lovely lady named Joyce Stirling. I inquired about meeting her husband, at the suggestion of Donald Fraser, as I was told her husband has something of a hobby of collecting photos and information about Guisachan history. Joyce made a phone call and I was invited to come to his house where we chatted for 1 1/2 hours in their cozy kitchen. Donnie let me take several photos and documents to copy for which I was extremely grateful. Some are now on our Friends of Guisachan website.   Got back to the hotel and it was time to head up to the Guisachan Gathering. The "Guisachan Reunion" nearly defies description.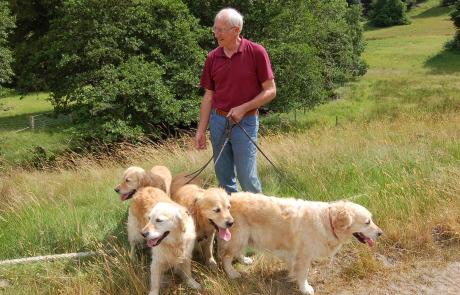 As happened at the nocturnal walk, people parked their cars in the field adjacent to the former kennel and began walking to the Guisachan House ruins and the field behind the house.What a sight with so many Goldens on parade. For many people, who had not made the walk the night before,  this was their first visit to Guisachan and I saw people stop in their tracks when they got their first view.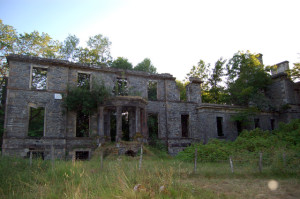 "There it is!." "Oh, my, I'm really seeing Guisachan." "Oh I think I'm going to cry!" "Well, will you look at that!"   These were the reactions I heard over and over and as people came around the bend in the road and saw the famous ruins. This is a mansion that could tell many stories if only it could speak. It was once a magnificent estate, now reduced to humble ruins, but magical, nonetheless. There are many pictures of the estate in his grandeur on the Friends website and little known stories and photos that Sue Campia (Secretary/Treasurer of the Friends) and I have subsequently found.  
Cameras, iPods and cell phone cameras began to click as people photographed the ruins and then asked others to take their picture by the ruins. Donald Fraser's book on the history of Guisachan shows a small Wellingtonia Sequoia sapling in front of the house. That little sapling is now over 100 feet tall.   Gradually people set up their chairs, coolers, rugs for the dogs etc. and "made camp" for the Gathering. After about an hour, the amateur Highland Games began with the tossing of the Haggis.  Haggis, as you may know, is a Scottish dish of sheep liver, heart and kidneys, but this Haggis was a frozen ball which competitors tried to toss as far as possible. Each contestant was given a wrap-around kilt to put on, they then stepped up on a small barrel, were instructed to hold the Haggis under their chin and then toss it as far as possible. Some people did very well, but others – well, let's say they are not ready to compete in the Olympics.
The next event was a tug of war with nationality teams competing against one another.   Then came the grand march called the Duke of York. About 30 people lined up facing one another with their arms held high to form an arch.  Each Golden, together with his or her owner(s) bent low and walked through the arch while a loud and boisterous count ensued. "100" they called out, and everyone cheered. "150" was the call and the cheer grew louder. "200" – the cheer was deafening. And finally a little puppy was carried through the arch to the announcement that this was Golden number 222! The crowd roared. This year's reunion had beaten the Reunion of seven years ago when 180 Goldens went through the Duke of York.   Then it was time for "The picture." We all gathered in the field with the mansion runs as a backdrop, Goldens and people alike while a photographer stood atop a tall ladder to record the occasion. There were 350 people and 222 Goldens!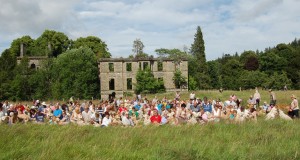 Through it all, a BBC film team had appeared  and was having a grand time filming the events for the BBC2 internet program. Their filming made it to PBS in the US and to a number of other US  media outlets.( If you Google Guisachan on the internet you can still see all the media photos and stories.)  
Friday, July 19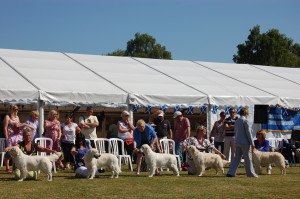 This morning we drove to Shinty Field in the village of Cannich for the Golden Retriever Club of Scotland's Specialty Show. It was both interesting and confusing as the entry classes are very different from those we have in the States. Moreover, the English breed standard is different than the American standard, and of course, most of the dogs are very light in color. There were a few medium gold and even dark gold dogs, but the vast majority were light cream.
There were to be two judges, one from Australia and one from Germany so there were two rings in action simultaneously. Much to the club's chagrin, the German judge had a family emergency and had to make a last minute cancellation. Judges have to be approved by the Scottish Kennel Club so after much scrambling, Doreen McGugan, Chair of the Scottish Club, was called into service.. Doreen is a fine judge with a good deal of experience, but my goodness, she had just been running the entire Guisachan event and now had to stand on her feet all day and judge a dog show! What a trooper!  
That afternoon we decided to do a bit of non-doggy sightseeing and drove into Glen Affric, reputed to be the most beautiful glen in all of Scotland. I believe it! The River Affric flows through the Glenn which is home to a large Caldonian Forest Reserve containing one of the largest Caldonian pinewoods in Scotland. This plus it has two beautiful lochs. It is no wonder, with its mountains, moorland, river and lochs, that Glen Affric has also been designated a National Scenic Area and a National Nature Reserve.  
Back to the hotel for dinner before meeting both Joyce and Donnie Stirling for an evening walk and tour of former Guisachan buildings. The first we visited was the triplex – three private residences these days that previously served as the school and church, the school master's home, and the village hall. We also were shown, most significantly, the site of the original kennels adjacent to the old stables, the deer rendering house and the hot house where orchids were grown for the house tables. Apparently Lady Tweedmouth had a special fancy for orchids. (There are many photos of all this on our Friends website.)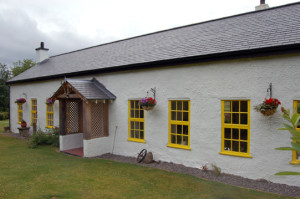 Tomich is a village of about 200 people scattered about so seeing  four people walking down the Guisachan road at 9 o'clock at night was a bit unusual. We were soon greeted by local residents who came out of their homes to chat and were happy to hear about our interests in Guisachan.  One lady we met was walking her two rescue dogs – one of which happened to be a Golden! At last, a resident Golden! We'd not seen a one. Callie trotted alongside us eager to share the walk while venturing out into the grasses periodically looking for voles which she apparently loves to chase. The sun was setting, (it's light until 11 in northern Scotland), the midges were starting to come out and bite, but it was so delightful and peaceful strolling down the Guisachan road with the Stirlings, and Callie and her owner.   Guisachan is a magical place – even if you aren't a Golden fancier. But when you are, when you know that all our beloved Goldens came from this beautiful site and think of the gift Lord Tweedmouth gave us all, well, everyone needs to put a visit to Guisachan on their "bucket list" as did I. And maybe by the time you get there, our beautiful bronze Golden statue will be waiting for you. And remember, 2018 is the 150th anniversary! And there's bound to be a Scottish celebration!