Burial site of Dudley Coutts Marjoribanks
The Discovery of the Resting Place of our Breed's Founder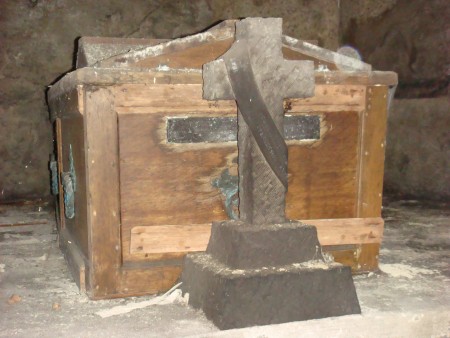 Never having heard anything to the contrary, I had always assumed that Lord Tweedmouth's (Dudley Coutts Marjoribanks) final resting place would have been in Scotland, close to his
beloved Guisachan.
That is, until I chanced on the following book about the life of the 2nd Lord Tweedmouth entitled "Edward Marjoribanks- Lord Tweedmouth K.T. 1849- 1909. Notes and Recollections".
The final chapter was on the life of Edward Marjoribanks' mother Isabel Lady Tweedmouth, being a reprint from the Westminster Gazette – March 28, 1908. The clue was picked up from the following passage: –
"From her son's official residence (i.e. Admiralty House, Whitehall) her funeral procession proceeded by a route probably almost unique for a funeral, through the Horse Guards, down the Mall, past Buckingham Palace, up Constitution Hill and through the principal entrance gate, under the arch there, then up Park Lane, and soon to Kensal Green where she wished to laid beside her husband."
So, one day when we were visiting the UK doing a little research on a book being written at the time, my husband and I decided to see if we could actually find Lord and Lady Tweedmouth.
The cemetery was surprisingly close to where we were staying in London – just a seven minute train ride from Paddington Station to Kensal Green on the Bakerloo line.
Because of his high stature in society, my husband assumed that Lord Tweedmouth's memorial would be on high ground and of a substantial size, thereby being easy to locate, just be wandering around.
After an hour and a half we were unable to find any gravestone bearing the name of either Marjoribanks or Tweedmouth. However, we had an opportunity to ask a young man who was working at the Cemetery. The employee was not able to help us directly but he mentioned that there was a small office which was located at the entrance and that someone in there may be able to guide us. Fortunately the owner was in attendance.
We explained to him whose memorial we were looking for and he directed us to the list of famous people, who were buried in the Cemetery, on the wall of his office. Our hearts sank a little as there was no record of Lord Tweedmouth on this list. We began to explain why we were so interested in finding the grave, mentioning of course that Lord Tweedmouth was the founder of the Golden Retriever breed. The owner told us that he too owned a Golden Retriever.
His next plan was to look up the old records. Luckily we were able to remember the year that Lord Tweedmouth passed away, that being 1894.
So our assistant told us to wait while he went downstairs, saying it may take a little while. However, he did say if DCM's and his wife Lady Tweedmouth 's final resting place was actually in the Cemetery then he would be able find the documentation in the old registers
Before we knew it he was back upstairs and said "Yes he is here!" We were shown the old records and from them we were able to find out the following information which we photographed we recorded.
On 20th April 1859 Edward Marjoribanks of Greenlands of 24 Walpole Street and Dudley Coutts Marjoribanks of 24 Upper Brook Street purchased two vaults opposite each other in Kensal Green Cemetery in London for a princely sum of three hundred and ninety eight pounds. These vaults are located at Catacomb B Avenue 7 under the now unused church in the Cemetery.
Transferred from elsewhere in the first year of purchase included Georgina, James, Coutts, Annie and a stillborn child.
Vault 144 included Lord Tweedmouth (1820-1894), his wife Isabella (nee Hogg) (1827-1908) and three of their children Annie (an infant) Stuart M.(1852- 1864- died of scarlet fever) and Archie (1861-1900). Located at the end of Lord Tweedmouth's coffin is a large cross. 
Vault 109 includes DCM's father Edwin (Edward) Marjoribanks (1776-1868) and his father's brother James Marjoribanks (1784-1837), DCM's mother Georgiana LaTour (1778-1849), DCM's brother Coutts (1810-1829) his sisters Emma (1822-1896), Julia (1824-1910), Laura (1826-1920) and a stillborn child.
In 1894, the year of DCM's death the vaults were renovated. Brass plates on all the coffins were polished. At that time iron gates had been installed.
Probate was applied for in 1894 and this was granted to Ishbell, Edward, G J Marjoribanks and R L Hunter in 1896. The last grave to be added to the family vaults was Laura way back in 1920. The Catacombs are not open to the public.
Rob and I were then asked "Would you like me to take you down there?" Normally, this type of thing would not be something on my "to do" list. But, in this case it seemed to be almost surreal to think that I would be able to get so close to the great Lord Tweedmouth.
We hopped in the owner's car and were driven to the church which was being looked after by a Security Guard. Prior to going in and down the very old narrow staircase we were warned that the Catacombs had been vandalised. The description was spot on as many of the urns had been broken and had fallen over. I think it would be a rather daunting place to visit at night on one's own.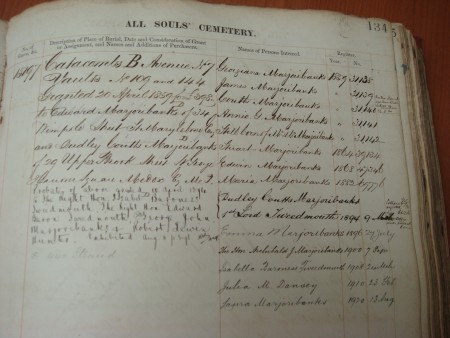 We followed our guide along a number of avenues, until we came to the end of Avenue 7. On the right was the large cross in front of Lord Tweedmouth's coffin. Beside him were his wife and a little coffin, which must have belonged to Annie. Although DCM's name and title were legible, very few names on the plates of other coffins could be identified. In addition, the iron gates had been removed. Apparently this was not unusual as the iron was often salvaged for the war effort.
Everything was very dusty and the family vaults may well have been unattended since the funeral of Laura in 1920. The 3rd Lord Tweedmouth had no son, so the title became extinct.
We thanked the owner so very much for taking the time to help us in our quest to find "DCM". It is a story we often tell as we have never experienced anything like this before.
Someday into the future, perhaps the Golden fraternity could be given permission to leave some kind of momento in the vault beside Lord Tweedmouth as a sign of our greatest respect and gratitude for giving the World the most wonderful Golden Retriever.